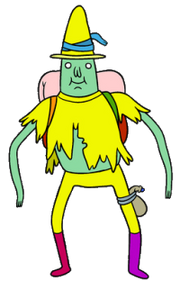 Magic Man is a magical hobo who once turned Finn (and other freaks) into a foot. He will appear in
AT: The Wrath of Austin Belt
but he will not have his hat because it is the main prise that could save the Adventure Time Wiki. Magic Man could possibly be killed, prisoned, or just a troll in this episode.
Ad blocker interference detected!
Wikia is a free-to-use site that makes money from advertising. We have a modified experience for viewers using ad blockers

Wikia is not accessible if you've made further modifications. Remove the custom ad blocker rule(s) and the page will load as expected.